Introducing President Susanne Marie
For more than 40 years, the Rotary Club of Stirling has served the local community, supported youth and community groups and those in need throughout the district and and overseas.
All our members contribute a great deal of time and effort to support others less fortunate and to raise funds for our good works.
Click here
to discover how the Rotary Club of Stirling makes a difference!
I am proud to be a part of this incredible organisation which remains the oldest and largest service network in the world.
Susanne Marie
President, ROTARY CLUB OF STIRLING
The Rotary Club of Stirling announces an exciting, new major event.
Click
HERE
to access information about the Small Acreage Field Days, 4th and 5th April, 2020.
It's Back!
A Lovely Evening at the Uraidla Hotel!
Our recent vocational visit to the Uraidla Hotel, Brewery and Bakery was a great successs. It was organised by Colin Fraser and Robert Koehne to hear from Colin's daughter, Julie Peter, speaking of her journey in transforming the Crafers Hotel, the Uraidla Hotel and soon to do same for the Nairne Hotel.
It is wonderful that Julie and Ed Peter have such a strong and clear vision from which our Adelaide Hills have greatly benefitted. It was fascinating to hear Julie's story and her proud mother and father's faces as she told it!
Rotarian Colin Fraser with his daughter, son-in-law and granddaughter!
L-R: Colin, Coco and Julie Henry, Sally Fraser and Ed Peter
A warm welcome to Nick Ditter!
Nick Ditter of Crafers was inducted into the Rotary Club of Stirling on 20 February.during a vocational visit to the Uraidla Bakery, Brewery and Bakery.
He was appointed to the Youth Committee,with Owen Bevan nominated as his mentor.
Nick also has an important District role in supporting the seven day long, Rotary Youth Leadership Award residential program.
Welcome Nick! A welcome addition to the club!
And good luck with the work you will be doing for RYLA and Youth in the District.
45 Years of Service to the Community!
What a wonderful celebration it was when we hosted current and past members to a special anniversary party on the 10th of September.
There was quite a buzz in the room as old friends and partners renewed old acquaintances and reminisced about some of the many of the clubs achievements and milestones over nearly half a century.
Two charter members were able to attend and it was great to hear from Past President Peter Frazer who was a founding member. Also present was John Stoddard, one of the stalwart, continuing members of the club he helped create back in 1974.
Peter Frazer shared memories of the early days and John Norris was our amiable MC
Among those who also shared anecdotes were:
Ian Cogdell and David Wotton.

I was pleased that Barry Klose, the only remaining Charter member of RC of Onkaparinga, his wife Bronwen and Past Predident Keith Broderick were present to share memories of when Stirling sponsored their club in 1978.
Barry and Bronwen Klose and Keith Broderick
President Russell Camens and Kevin Wilson of the Onkaparing club and Past President Shiralee Judge of Mt Barker represented the club who sponsored us in 1974.
Our other closest neighbouring club, Blakiston, was represented by President John Rowley.
The specially commissioned anniversary cake reflected the colours in the current Rotary Theme of "Rotary connects the world". Sue from Azure De Lis Cakes in Mount Barker took the vibrant colours from the Logo to present a very attractive cake which was white chocolate and fresh raspberry filling.
Our two Charter members , John Stoddard and Peter Frazer, ably assisted by President Susanne Marie, cut the cake after a rousing Happy Birthday was sung.
News from Rotary around the world
Scientist, farmer, innovator, Rotarian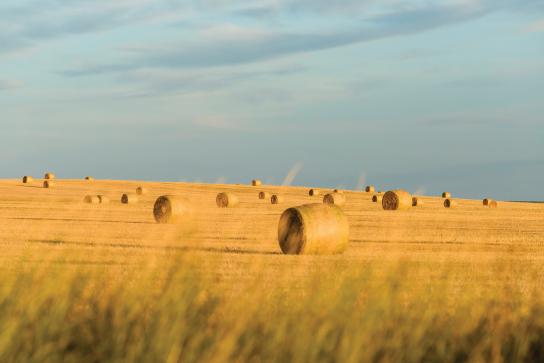 A plainsman with a PhD, Bob Quinn uses his 4,000-acre Montana spread as a laboratory to revive an ancient grain, rethink agricultural practices, and reinvigorate rural communities
Exodus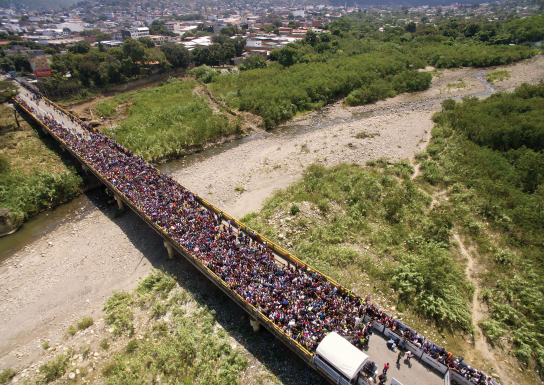 Since 2015, more than 4 million people have fled an economically devastated Venezuela. Tracking the stories of three who left puts faces on that staggering statistic.